13 Nov, 2012
Italy has always been my favorite part of Europe, because it is such a multifaceted country, with so much to offer and impress. It has always been a dream to explore the various cities in Italy, to feel its rich history, to experience an Italian's lifestyle with their food and culture, and to simply be surprised by its diversifications.
And it was a dream came true when I made an impromptu and spontaneous decision to join B on his journey at Italy last month. We covered all the cities that I love, all credits to my wonderful boyfriend who mapped out the itinerary so well. And I quote an old friend, Gregory - "You are in good hands, your man is an intelligent one. Your holiday will definitely be awesome with him bringing you to the best places and taking care of you."
Though it was a relatively short trip, it sufficed to set my heart ablaze, and granted me memories aplenty to reminisce for a lifetime. It was definitely the trip of my life, and the happiest 10 days of my 2012.
I flew in to Rome to meet B, and we began our Italy adventure at the Eternal City.
I teared upon landing at Fiuminico Airport, and as B and I took the bus to our hotel, Rome slowly unfolded before my eyes just the way I know it to be. The rich ancient splendor of the city was enchanting beyond words, every corner and turn seemingly reflects images that I have seen of Rome in books, magazines, collaterals, TV...
Rome was too beautiful, and nothing can articulate its beauty. Even pictures are just mere pictures that do not bring enough justice. I could start dreaming all over again, but it would never end...
Our first dinner at Rome:
The restaurant, Ditirambo, is located at Argentina (Ancient Rome area), but because B and I boarded the wrong bus (Can you believe it? 2 pairs of eyes, and both pairs mistook Bus 82 for us 62!), we went all the way up to Nomentano. By the time we got to the restaurant, I was all bushed and grumpy. It was supposedly 3am in Singapore, but B ordered a really satisfying spread that perked me up in no time. Italian food has got to be my favorite European cuisine, and I really could eat pasta everyday.
Medium-rare Steak with Roasted Potatoes and Thyme: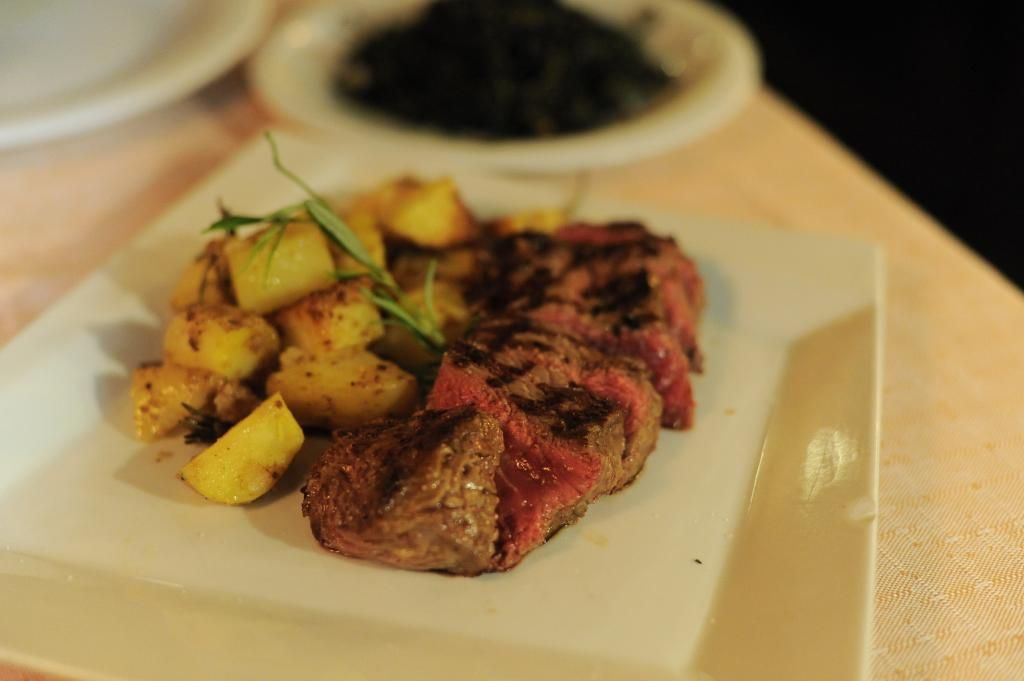 Cuttlefish Ink Fettuccine with Crab Legs in Artichoke Cream:
And snippets of the beautiful Rome.
The magnificent Pantheon - the most well-preserved Roman building which dated way back to 126 AD: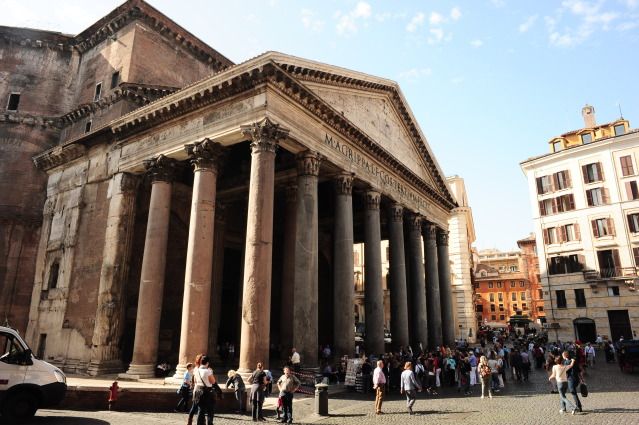 Because traveling as a couple isn't the most convenient for nice couple shots, it was B taking photos of me most of the time. Robbery is one too common in Italy, and we were perpetually on our toes to safeguard our belongings. We could hardly take photos together, for fear that people would run away with our cameras. But as much as possible, we tried our luck and collected a few pretty decent couple shots. For strangers who looked more trustworthy, we kissed for a series of "Sealed with a Kiss at xxx"! :D

Here's a tip - get tourists to help. They can't possibly run far in foreign lands anyway. Else, look for Asians. After all, it is tougher to betray your own "kind", yes?

Sealed with a (royal) Kiss @ Pantheon:
Being first-time tourists there, we were conned and paid €10 for this photo to be taken at Piazza della Rotonda. We were approached by this man who was decked in ancient Roman costume, who offered us the crowns and asked if we had needed help with photos (since there was no 3rd person to help the both of us with photos together). Gullible enough and with a strong faith in humanity, I thought we were so lucky to have bumped into a kind soul. I accepted the "help", and B passed his DSLR to him. After he took a few photos of us, he returned the camera to B and said, "Thank you, €10 please."
I was dumbfounded to say the least, and B later told me that such antics are all too common in Europe actually. I felt so cheated and annoyed. I honestly thought humans could be nice unconditionally! And €10 for this photo, seriously? At least take properly can? The buildings were overexposed and our faces were not focused properly.
So anyway, a tip for you if you are going to tour Europe - do not accept things (of any sorts) from strangers at Europe. There are lots of them like that everywhere, who would go around giving you random stuff like friendship bands, roses etc. Lesson to bear in mind - Nothing is free in this world.
Inside the Pantheon: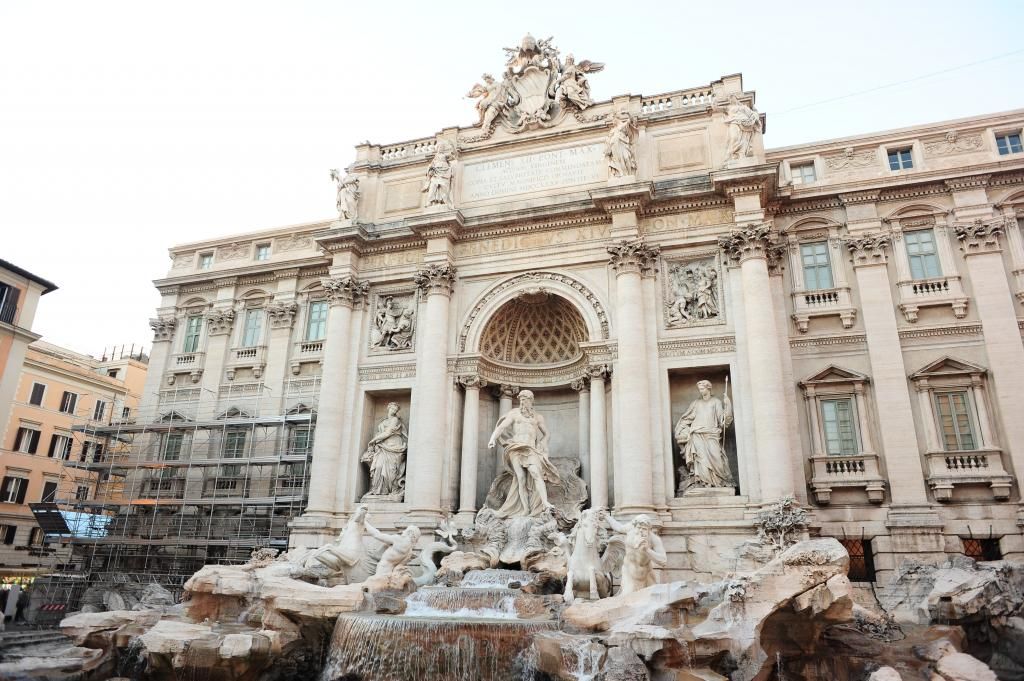 Sealed with a Kiss @ Fontana di Trevi:
My summer outfit for Sunny Rome - aztec top and magenta high-waisted skirt from Bangkok, tribal necklace from H&M.
B always takes such pretty photos of me.
The grandeur of the amphitheater against the gorgeous sky; I could almost see the gladiators fighting, I could almost hear the crowd cheering.
Sealed with a Kiss @ Colosseo:
Arch di Constantine and Colosseo:
Rome was so memorable because we spent so much time living it up like the locals, and indulging in the Italians' way of life. When in Rome, do what Romans do - indeed. We took the bus and Metro to get around,
we sipped coffee and munched on biscotti by the streets,
Monumento a Vittorio Emanuele II: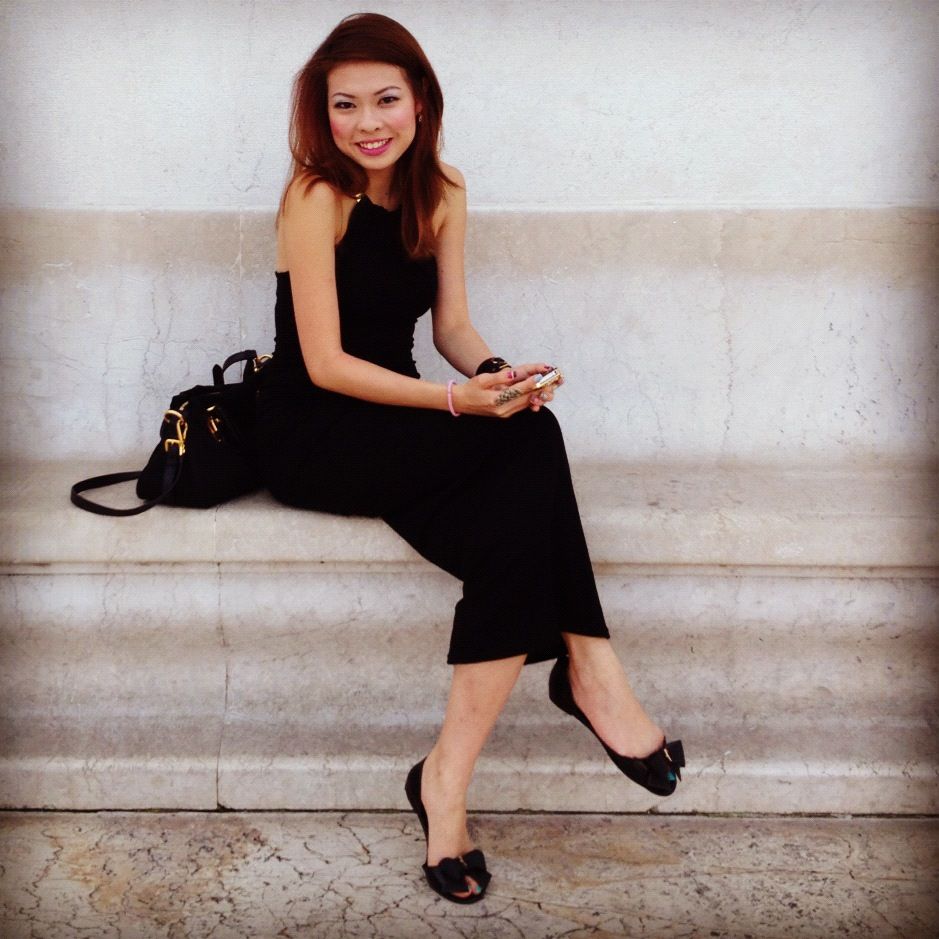 A photo overlooking Piazza Venezia - a bus interchange that we frequent when getting around Rome: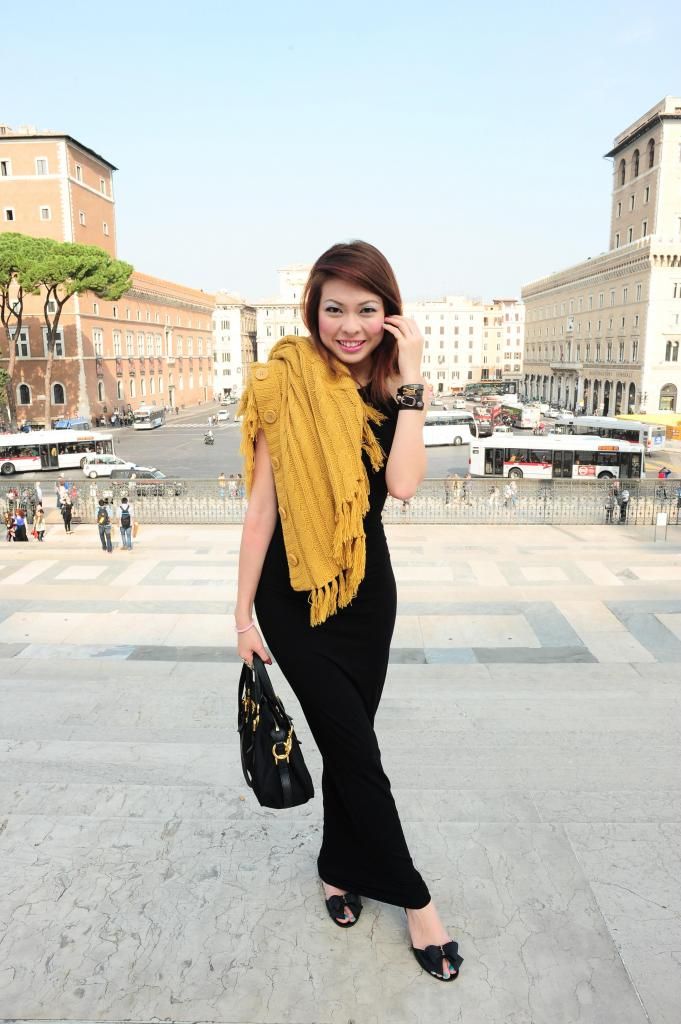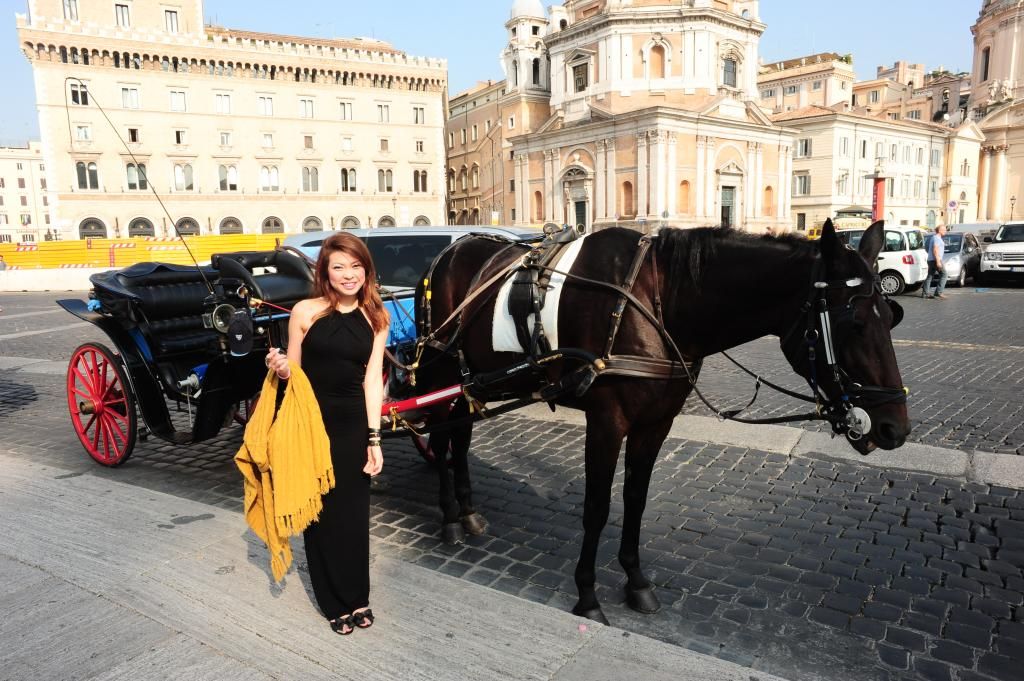 Roman Forum, further up from the Colosseo: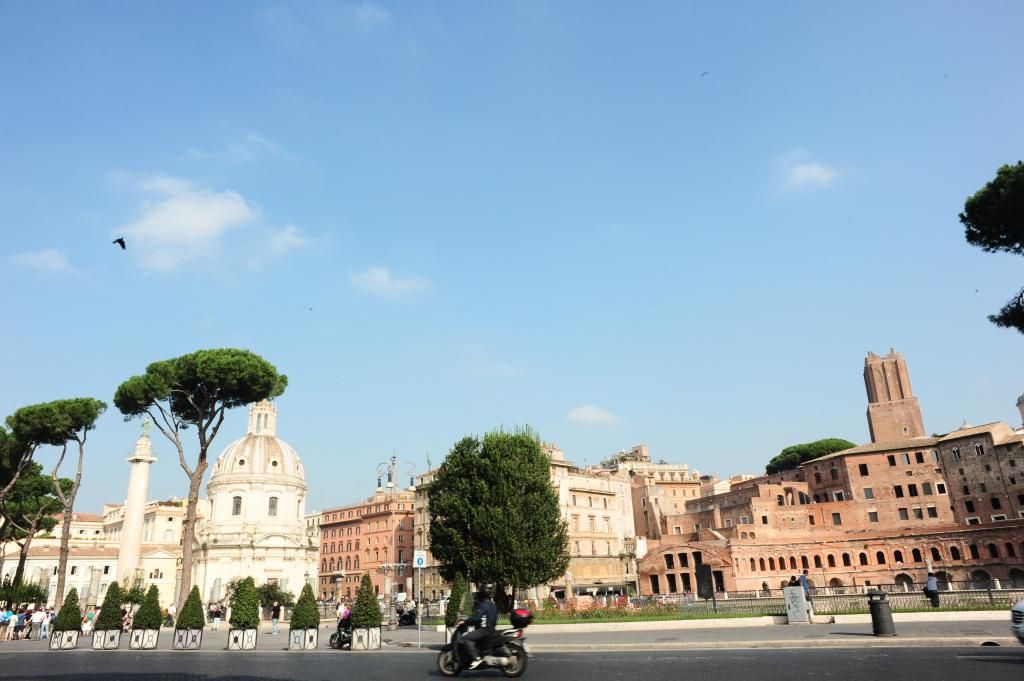 The best part about being tourists is that you can get away with almost anything, including plopping down on a random bench with your lover by the road to cuddle and just chat the afternoon away.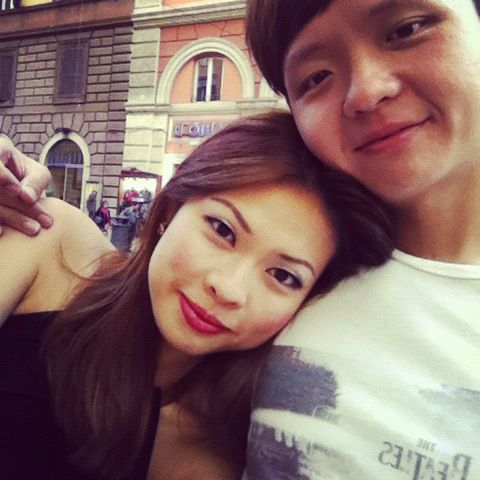 And we went to Vatican City briefly. It was crazily crowded, and it was a pity that there were lots of construction going on, so we couldn't get nice panoramic shots of the place. And, it was a really hot day, and I was grouchy because the guards were so strict and I had to be "properly clothed", so half the time, I was managing my knitted shawl over my otherwise "exposed" dress.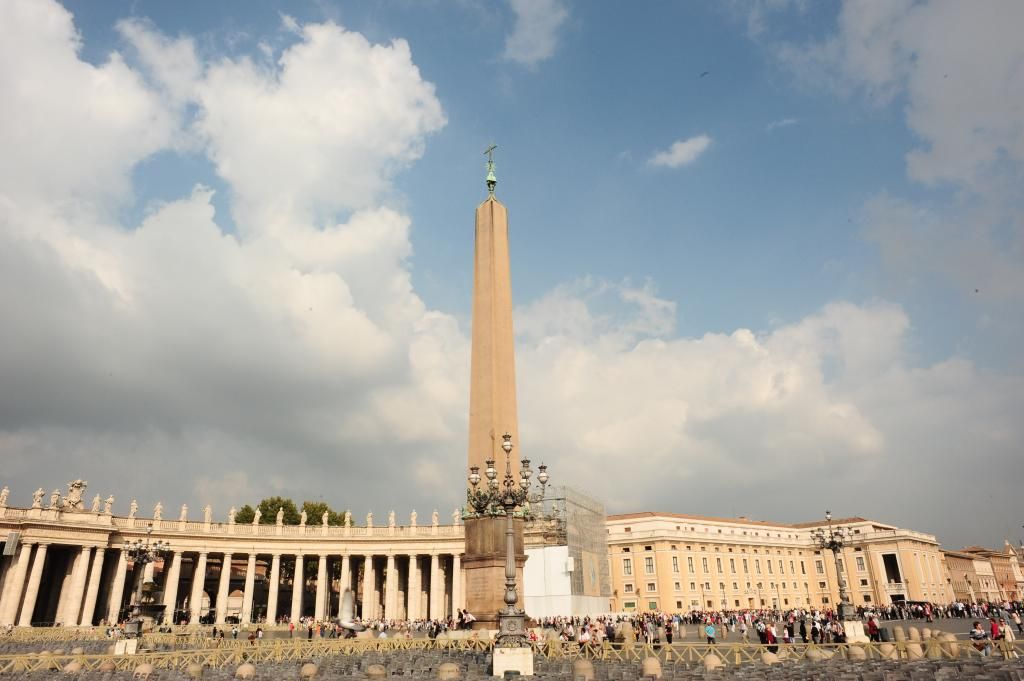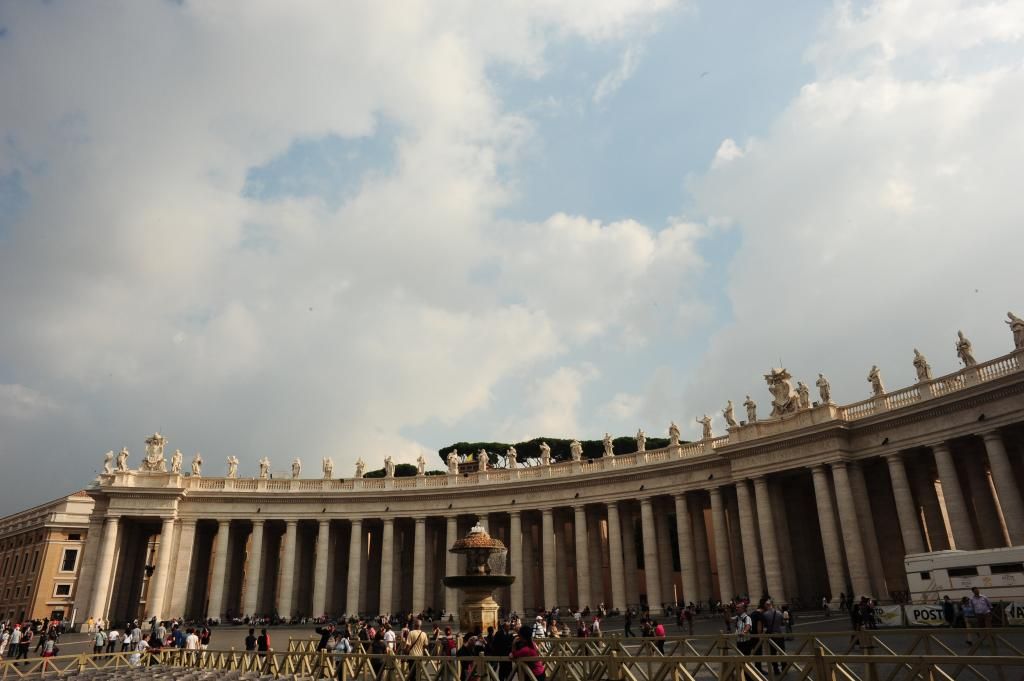 Lunch at Li Rioni, one bus stop away from Colosseo. We walked quite a distance to locate this restaurant. B said it is highly recommended and that they are very famous for pizzas. Splendid choice, indeed. We loved our lunch that afternoon, and it was the cheapest of all our meals there.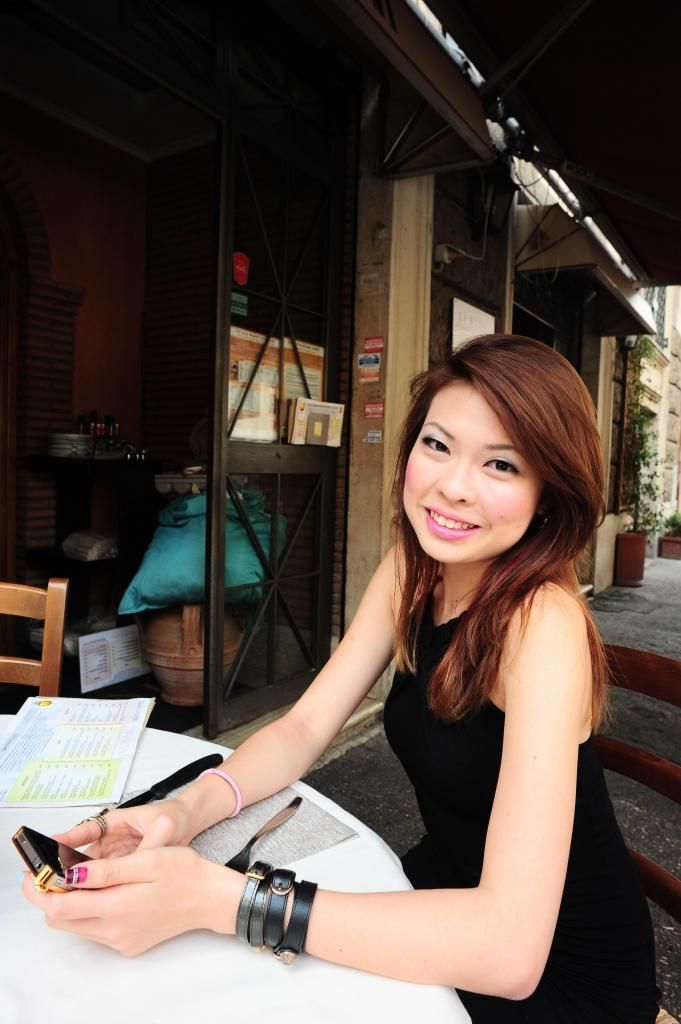 Their signature Cheese & Pepper Pasta, apparently a favorite among locals:
This was such a yummy slab of steak, and it was only €12! Dining in Italy really ain't as exorbitant as we had expected it to be. And being so spoilt by the prices and quality, it makes me think twice about eating at Italian restaurants back in Singapore.

(And I really have to say that PastaMania is shit.)
And our duo pizza. Can't remember the flavors exactly, but B ordered this because there was artichokes, mushrooms, olives and parma ham - all my favorites!
Panna Cotta with Berries! The authentic Italian version is a milkier one with less of a pudding texture. Accompanied with mixes berries compote, the dessert's subtle sweetness gave a nice balance to our full-bodied and flavorful meal.
Dining in Rome was truly a joy. There were other meals and snacks that we had throughout our stay, and many more that we didn't get to try on this trip.
I need another trip back to Rome; I could spend a whole week at Rome. Among all the cities that we had covered, I miss Rome the most. She had so much to offer, and she gave me so many happy memories with B.

Life's lost remains;
Thank you, Rome. You have been so wonderful, and I will definitely be back someday.
My best friend, my lover, my soulmate;
Thank you for being the best travel companion, for holding my hand and seeing the world with me. I love spending time with you so much, and I love how we can talk all day and still have endless things to say to each other. Being with you is the best decision I have made in 2012; to be able to fall asleep in your arms and wake up to your smile is a feeling I'd never trade off.