01 Sep, 2014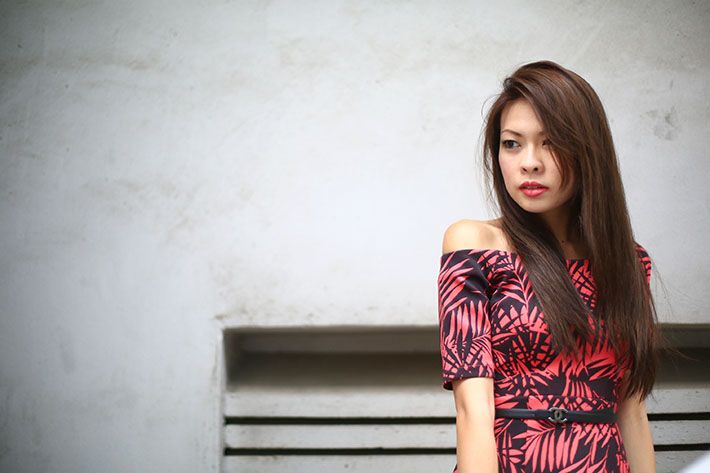 I never thought that my makeover would earn me so many compliments. For the past few days since I started sharing photos of my new hair color on Instagram, I've had nothing but positive feedback and praises from so many of you, and each and every one really warmed my heart. To say that I appreciate all the time and effort taken to leave a comment on my photos is but understated.
I have had bright colored hair for more than a year, and the light brown that I spotted previously has been my favorite color yet. It has an unspeakable X-factor that makes me feel like a Japanese, and B really loved it too. But I thought for a while, and decided I needed a change. I stepped in to
Shunji Matsuo @ 313
feeling apprehensive, not sure of what to expect from my stylist Eddie, and really clueless about how I was going to look like. Well, I really forgot how I looked like with dark hair, but I was to find out that I would fall in love all over again.
It took a while of getting used to, and to be most honest, I did not like it for the first few hours. I was secretly crying inside, missing my light brown hair, and worrying about how I'd do my makeup and style myself with the new hair color. But all the encouragement I had far outweighed my concern and eased my heart. And I actually started to really love myself for making that decision to go dark!
The very next day, I chose to play up my features with darker eyebrows and a slightly orange-tinted lips. A dark shade sure makes my features pop, and I look so much fairer. So I thought I would finally don my off-shoulder dress that
Fash Mob
sent to me some time ago, merging my love for my new hair color and an increasing fetish for palm prints. On a lighter note, Zara had a similar piece last season that I had wanted soooo badly but even the smallest size was too huge on me, so was I truly glad when Fash Mob manufactured their rendition and it fits me so well!
So there it is, my first outfit post with this hair color. I don't know how long the color will last, because according to my hair stylist, my hair cuticles are rather weak and the coat of hair dye may fade faster than usual. But I am loving every moment with this color. Thank you,
Shunji Matsuo @ 313
! I know I can always leave my tresses in your care.
To celebrate Shunji Matsuo @ 313's 3rd birthday, I have a special promotion for my followers. From now till 26 Oct 2014, enjoy 15% off all chemical services with no minimum purchase! Chemical services include your usual hair coloring, perm, rebond and treatments. And I'd highly recommend my trusty stylist, Eddie!
Go on, you know your hair needs some pampering.
---
Shunji Matsuo
313 @ Somerset 313 Orchard Road, #03-26, Singapore 238895
Call 6238-0226 for appointments.